Construction Bench Program

MCTC is looking for local certified Disadvantaged Business Enterprise (DBE) and Small Business (SB) firms and suppliers to enroll in their Construction Bench Program, which will provide enrolled firms with preferential subcontract opportunities on the Mid-Coast Corridor Transit Project. MCTC seeks to include a variety of services from DBE and SB firms. The Construction Bench will serve as a shortlist of contract-ready firms from which MCTC will be able to expeditiously seek bids and put DBE/SB firms to work in order to meet the ongoing needs of the project.
About the Project
The Mid-Coast Corridor Transit Project will extend Trolley service from downtown San Diego to University City, expanding transportation capacity and reducing congestion.
Eligibility Requirements
To be considered for the Construction Bench Program, firms must be certified as either a DBE by the California Unified Certification Program (CUCP) or SB by the California Department of General Services (DGS). Candidate firms will also need:
A current California Department of Industrial Relations number

Quality Safety Records

A California Contractor's License

Applicable NAICS codes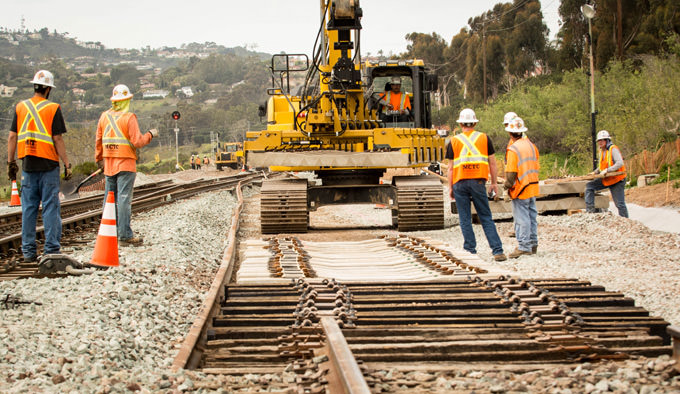 MCTC will offer DBE firms assistance with bonding, insurance and financing. MCTC will be releasing Construction Bench opportunities throughout the project, and will apply deadlines for questionnaire submission prior to their release.
How To Apply
To apply for the MCTC Construction Bench Program, click here or download and fill out the MCTC Questionnaire, and submit via email to dbecompliance@mctcjv.com for consideration. All eligible DBE and SB firms are encouraged to apply.
Construction Bench Program Scopes of Work
Scopes of work include, but are not limited to, the following:
Tree removal

Fencing

Landscaping

Electrical

Masonry

Painting

Traffic Control

Trucking

Concrete flatwork

Anti-graffiti coating

Clearing and grubbing